Cell Modem
About
The cellmodem plugin is a monitoring plugin for cellular modems. It reports provider and signal quality for GPRS/UMTS(3G)/HSDPA(3.5G) modem cards. It works with (mostly) all cards which support an out-of-band channel for monitoring purposes.
The current features include:
Display the current network type (GPRS/UMTS)

Display the current signal level

Configure the maximum signal level

Configure the low and critical signal level

Asking for PIN if modem needs it

Quick visual feedback on modem and registration status via LEDs
Download
News
Tue 16 January 2007
Uploaded version 0.0.5. Changelog:
Support for autodetecting known modem devices (PCI/USB)

Support for HSDPA detection (for modems which support it using _OHCIP)

Smaller leds - most people use absurdely low resolutions.

No more error after sending pin.

Added the Czech translation by Michal Várady. Thanks Michal!
Thu 05 October 2006
Uploaded version 0.0.4. Changelog:
Support for –enable-debug in configure
Wed 04 October 2006
Uploaded version 0.0.3. Changelog:
Better error handling - Error messages included

Fixed bugs in remove_leading_chars and remove_trailing_chars

Fixed modem pin reply in fake driver.

Added vasprintf - needed for error messages

Moved some prototypes into cellmodem.h

Removed C++ style comments

Enforce pin '1234' on fake driver.

Cancel pending timers when reinitializing modem.
Sun 01 October 2006
Uploaded version 0.0.2 to SVN. Changelog:
Fixed error handling.

Disabled the ask for pin. You can click on the plugin to enter the pin, if it is required.

Fixed initialization of IO channel in modem_driver_generic.
Screenshots
Screenshot of the modem registered and working. The signal level is low.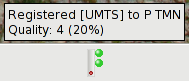 Screenshot of the modem requiring a PIN. The yellow LED flashes:

To-do and Wish List
[Wish] Support to start and stop pppd.

[ToDo] Add keyboard shortcut to enter PIN

[ToDo] Feedback if PIN worked, and if not how many attempts left.

[ToDo] Entering PUK to unlock after invalid PIN entries
Known problems
Some cards/drivers sometimes stop to respond on the control channel. This is a driver issue and not a plugin issue. If you come across this problem please e-mail me so we can find a workaround for it.

Some cards/drivers (happened with me with nozomi driver, Globethrotter 3G/EDGE card) sometimes reply no registration when it is registered. This seems to be related to the card firmware. I will try to find a workaround when it happens again.
Contact the Author
You can contact me through the following e-mail address:
alvieboy «@» alvie «.» com
Just remove the spaces and the « and » characters.